BIOGRAPHY
Alison Hams is recognised as one of Australian country music's most professional and versatile performers.
Already known for her colourful onstage appearance and fine musicianship, Ali's public profile has expanded through features in broadcast medias including a 2004 live performance on Bert Newton's "Good Morning Australia" television show across Australia.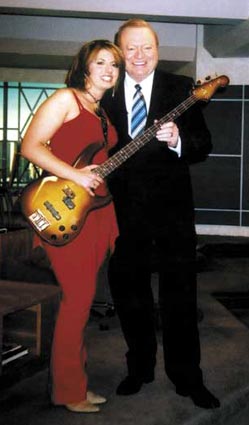 With Bert Newton on "Good Morning Australia".

Alison's music has seen her perform nationally, in New Zealand and Nashville - and be a Grand Finalist in TOYOTA Star Maker, arguably Australian country music's greatest professional talent search.


Toyota STARMAKER GRAND FINALISTS 2003, Tamworth, NSW

"Second Fiddle" from her all-original album "Daisy Train" was a 2005 WINNER of one of the world's biggest songwriting searches - the UK Songwriting Contest judged from thousands of entries from professional songwriters all over the world!

Its follow-up single "Romeo" was used on the soundtrack of Australian Feature Film "Offing David".
As a proudly South Australian artist Alison has also claimed a prestigious S.A.M.I. (South Australian Music Industry Award), performed at the Young Australian of the Year awards at the Adelaide Hilton International - and in 2006 was presented an esteemed SA Great! Regional Arts Award award for her contribution to regional arts and music.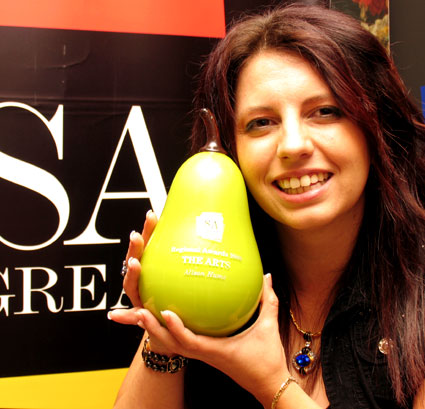 Winning the SA Great! Regional Arts Award.

This success has continued with Alison and her musical partner (and husband) Mark Tempany winning a 2010 Advantage SA Regional Arts Award, a 2012 Australia Day Community Service Award - and the duo's major annual stageshow production "Carols In The Park" winning Whyalla's 2010 Australia Day Community Event Of The Year.

With Whyalla's Mayor Jim Pollock & fellow Australia Day Award winners.

Alison has toured with and supported many major recording artists including Charlie Landsborough (UK), Kate Ceberano, Lee Kernaghan, Adam Harvey, Kasey Chambers and Adam Brand, has co-written a song with Gina Jeffreys, and maintained a regular programme of appearances at major festivals like the Tamworth, Mildura & Gympie Country Music Festivals since 1994.

With Mark & Kate Ceberano at Adelaide's Hilton Hotel.
A graduate of the CMAA College of Country Music, Alison and her music have also made a real impression on innovative American guitar company Daisy Rock with whom she gained a product endorsement deal.

Promotional shot for Daisy Rock Guitars, USA
In December 2008 Alison and Mark played to over 35,000 people at Adelaide's "Carols By Candlelight" at Elder Park - in fact the two talented singer songwriters have primarily combined as a formidable acoustic duo since 2006.


Mark & Alison at Adelaide's
"Carols By Candlelight" in Elder Park, SA.

Both Mark & Alison were inducted into the South Australian Country Music Hall Of Fame in Barmera in June 2007 and received the Country Music SA Industry Award in 2013.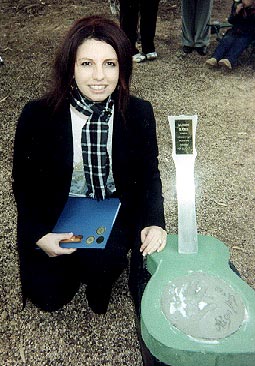 Being inducted into the SA Country Music Hall Of Fame in Barmera, SA.

Hot on the heels of her very succesful charity release JELLY BABY SONG, Alison and Mark received the 2014 Tamworth Peel Valley LIONS Club Award at the Tamworth Country Music Festival


"Jelly Baby Song" photo shoot

Community support has always been important to Alison - she's donated time, money and talent to many causes and fundraisers (often creating her own) for Flood Relief, Bushfire Appeals, Drought Relief, Disaster Appeals, Type 1 Diabetes, Heart Kids, Children's Medical Research, Hospitals, Convoy For Kids, Special Schools, Service Clubs, Christmas Appeals, NAIDOC Week, Royal Flying Doctor Service, Absestos Victims Memorials, McHappy Day, RSPCA, Aged Care Homes, Community Radio and countless other charities.

2014 was the year that Mark & Alison's Stormfront Music Tutoring celebrated 10 years of service in Whyalla, South Australia.


Performing in the community with Stormfront Students

Stormfront Productions now boasts not just the marketing & management of Mark & Alison's professional music careers - but also significant achievements in major event management, graphic art, website design, music tuition services to over 100 students per week and now an in-house professional recording studio facility.

2015 was also fruitful with induction into the BRAND SOUTH AUSTRALIA HALL OF FAME...and Alison was named the 2015 CITIZEN OF THE YEAR in Whyalla.


Alison receives her Citizen Of The Year Award.


Alison and Mark at the BRAND SOUTH AUSTRALIA Awards

Launching a brand new initiative in 2016, Mark and Alison created the Whyalla Recording Scholarship which fully sponsors and supports a young regional artist to record & release their debut single! Mark and Alison do this all for free to help Expand The Horizons of each recipient and thus far have helped launch the recording careers of BREEZE Millard, Shakira Lea, Jaylee Daniels and Liberty Tuohy who have each had their own chart success thanks to #WRS!


WRS Winners Liberty, Shakira, Jaylee and Breeze

Stormfront Productions continues to Stage Manage some major events too - since 2006 Whyalla's LIONS "Carols In The Park" has grown to become Regional SA's biggest free public concert attracting over 5000 people annually.


Mark & Alison sing for the huge crowd at LIONS Carols In The Park

The duo have been recognised for their work as musicians, educators, studio producers and engineers - and especially for their philanthropic work in the community.


Whyalla's Annual "JAMM 4 GENES" fundraiser for the "Jeans For Genes" cause!

Recent Grand Finalist berths in many prestigious Awards include the ARTS SA "RUBY" Awards, The South Australian Music Awards, SA WOMAN Awards and the South Australian Community Achiever Awards

In 2019 Alison was named Top 3 in the Australian Women In Music Awards "Humanitarian" Category alongside Eurovision star Dami Im, and Go-Betweens drummer Lindy Morrison OAM!

Walking the Black Carpet in Brisbane at the 2019
Australian Women In Music Awards
Continued Professional Development is very important to Alison and her role as Music Educator, Studio Producer and Mentor.

Holding a Diploma Of Music, she is a Writer Full Member of APRA/AMCOS, a member of ANATS (Australian National Association of Teachers of Singing), a qualified Music Industry trainer, an accredited Music Teacher with full membership of the Music Teachers Association Of South Australia, is a qualified Vocal Health First Aider, an accredited Mental Health First Aider, and holds a Specialist Certificate in Music Theory through the prestigious Berklee College Of Music in the USA.

Alison & Mark proudly continue their musical journey from their home base in Whyalla (Barngarla Country), South Australia.

AWARDS:
2019 AUSTRALIAN WOMEN IN MUSIC AWARDS
Top 3 FINALIST "Humanitarian Award" (SA)
2019 SOUTH AUSTRALIAN MUSIC AWARDS
Top 5 FINALIST "Best Manager" (SA)

2019 SA WOMAN AWARDS
Top 5 FINALIST "Regional Star"(SA)

2018 Arts SA RUBY AWARDS
FINALIST "Outstanding Contribution By An Organisation" (SA)
2018 SA COMMUNITY ACHIEVEMENT AWARDS
Top 4 FINALIST "Best Small Business" (SA)
2017 Arts SA RUBY AWARDS
FINALIST "Sustained Contribution By An Individual" (SA)
2017 SOUTH AUSTRALIAN MUSIC AWARDS
Top 5 FINALIST "Best Studio" (SA)

2015 Australia Day
CITIZEN OF THE YEAR (Whyalla,SA)
2015 Brand South Australia
REGIONAL ARTS AWARD (SA)
2015 Brand South Australia
HALL OF FAME (SA)
2014 Peel Valley LIONS Club
COMMUNITY SERVICE AWARD (NSW)
2014 JDRF
STATE VOLUNTEER OF THE YEAR AWARD (SA)
2013 Country Music South Australia
INDUSTRY AWARD (SA)
2012 Australia Day
COMMUNITY SERVICE AWARD (Whyalla,SA)
2010 Advantage
SA REGIONAL ARTS AWARD (SA)
2007 South Australian Country Music
HANDS OF FAME (SA)
2006 SA Great
REGIONAL ARTS AWARD (SA)
2005 UK Songwriting Competition (UK)
BEST SONG "Second Fiddle"
2003 Toyota STARMAKER (Tamworth N.S.W.)
GRAND FINALIST
1999 Australia Day
JUNIOR CITIZEN OF THE YEAR (Whyalla,SA)
1999 Most Popular New Talent
AUSTRALIAN INDEPENDENT COUNTRY MUSIC AWARDS
(Tamworth,NSW)
1998 "The Pub" Talent Search
SENIOR WINNER (Tamworth, NSW)
1998 Sunraysia Top Of The State Talent Quest
FIRST PLACE Songwriter (Mildura, VIC)
1998 SAMI Award
BEST COUNTRY RELEASE "Alison Hams"
Album release
1997 SECMA Talent Quest
FIRST PLACE Group (Mt Gambier, SA)
1997 SECMA Talent Quest
FIRST PLACE Vocal (Mt Gambier, SA)
1997 NCMA Port Pirie Talent Quest
FIRST PLACE Group (Port Pirie, SA)
1996 Sunraysia Top Of The State Talent Quest
FIRST PLACE Female Vocal(Mildura, VIC)
1996 Keith (S.A.) Country Music Festival
FIRST PLACE Vocal Duet (with Fred Hams)
1996 Keith (S.A.) Country Music Festival
FIRST PLACE Female Vocal
1996 Broken Hill Country Music Awards (NSW)
FIRST PLACE Gospel Group or Duo
1996 Broken Hill Country Music Awards (NSW)
FIRST PLACE Battle Of The Bands
1996 Broken Hill Country Music Awards (NSW)
FIRST PLACE Vocal Duo
1996 Broken Hill Country Music Awards (NSW)
FIRST PLACE Female Vocal
1996 Port Augusta Talent Quest (S.A.)
FIRST PLACE Group
1996 SONY MUSIC COUNTRY TALENT AWARDS
FIRST PLACE Female Vocalist
1996 SONY MUSIC COUNTRY TALENT AWARDS
FIRST PLACE Group
1996 Gawler Country Music Festival & Talent Quest (S.A.)
FIRST PLACE Songwriter
1996 Gawler Country Music Festival & Talent Quest (S.A.)
FIRST PLACE Gospel
1996 Gawler Country Music Festival & Talent Quest (S.A.)
FIRST PLACE Female Vocal
1996 NCMA Port Pirie Talent Quest (S.A.)
SENIOR OVERALL WINNER
1996 NCMA Port Pirie Talent Quest (S.A.)
FIRST PLACE Female Vocal
1996 NCMA Port Pirie Talent Quest (S.A.)
FIRST PLACE Gospel
1996 NCMA Port Pirie Talent Quest (S.A.)
FIRST PLACE Group
1996 Frank "Rocky" Caputo Memorial Award
For Excellence in Music (Port Pirie SA)
1996 South Australian Country Music Awards
BEST FEMALE VOCAL
1996 South Australian Country Music Awards
BEST VOCAL DUO (with Chris Worbey)
1996 South Australian Country Music Awards
OVERALL WINNER
1995 Port Augusta Talent Quest (S.A)
FIRST PLACE Female Vocal
1995 Port Augusta Talent Quest (S.A)
FIRST PLACE Gospel
1995 Commonwealth Hotel "Town & Country" Talent Quest
FIRST PLACE (Port Augusta S.A)
1995 Central Australian Music Festival
FIRST PLACE Gospel (Alice Springs N.T.)
1995 Central Australian Music Festival
FIRST PLACE Bush Ballad (Alice Springs N.T.)